Quality
Quality Assured
Our ISO 9001:2015 certified Quality Management System guarantees that every workpiece we machine meets or exceeds the required tolerances. To make certain that our work is always first-rate, we use:
RAM Optical Measurement Systems to perform dimensional inspections to tolerances of 0.0001″/inch.
6

 

coordinate measuring machines (CMM), including

 

two

 

Zeiss

 

Contura

 

G2s

 

and one Zeiss Duramax

 

that performs rapid multi-point inspections on complex shapes and provides a printout for customer record retention. In addition, utilizing

 

AutoDesk

 

Inventor® software that provides the capability to import drawings and create programs before a part even arrives. In addition, the software can assist our operators in reverse engineering a sample part straight into a CAD file.
Wireless digital micrometers that send a real-time data point signal, captured by the MeasurLink® system, to the SPC database which is then displayed on overhead screens posted throughout the shop. This information is stored in a database and can be accessed for customer requested reporting and traceability.
Digital LED Keyence measurement systems are used for extremely close tolerance dimensional checks and are accurate to ±0.000080″
2 Keyence IM Series Instant Measuring Systems which provide both overwhelming measurement speed and high measurement accuracy. This equipment is designed to drastically reduce measurement time, eliminate individual measurement differences and provide easy data management for customer requested reports.
Zeiss Surfcom NEX contour measurement system which has an increased measuring productivity and accuracy due to high-resolution dual sensor technology and is up to 7 times faster due to a patented non-contact linear drive. Measurement error (µm): +- 1.0+ (L/100) and Straightness error of tracer driver (µm): 0.05+ L/1000.
At Aggressive Grinding Service, we conduct multiple inspections throughout the production process to ensure that every part we machine conforms to specifications.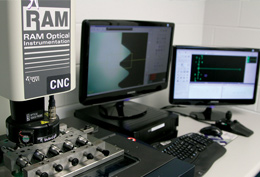 The latest in metrology equipment enables us to measure to the tightest tolerances and provide a detailed report with each order. We have the capability to provide detailed and uniform SPC and inspection reports to satisfy our customers' requests.