Where Precision, Speed & Quality Meet
As North America's leader in precision carbide grinding and advanced ceramic finishing, we help customers succeed by providing them with superior products and the industry's fastest delivery time. That unique combination of quality and speed enables us to continually exceed customers' expectations.
We treat customers, employees and vendors as we would like to be treated – with honesty, courtesy and respect. We practice our belief in The Golden Rule by offering fair pricing and quick turnaround, and by continually training the members of our team to perform their responsibilities efficiently and safely on the most modern equipment. We view our customers as partners, and show our loyalty to them by NEVER selling products or services that compete with their businesses.
We've been in business since 1988, when Lester Sutton founded the company, and we look forward to being around for many more years to meet the Precision Tungsten Carbide Grinding, Advanced Ceramic Finishing and PCD Grinding requirements of established and new customers alike.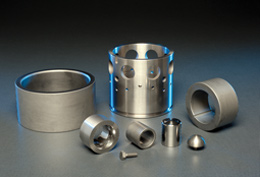 10 parts or 10,000 —
try us next time you
needed it yesterday!